In Napa with Isabel Freeman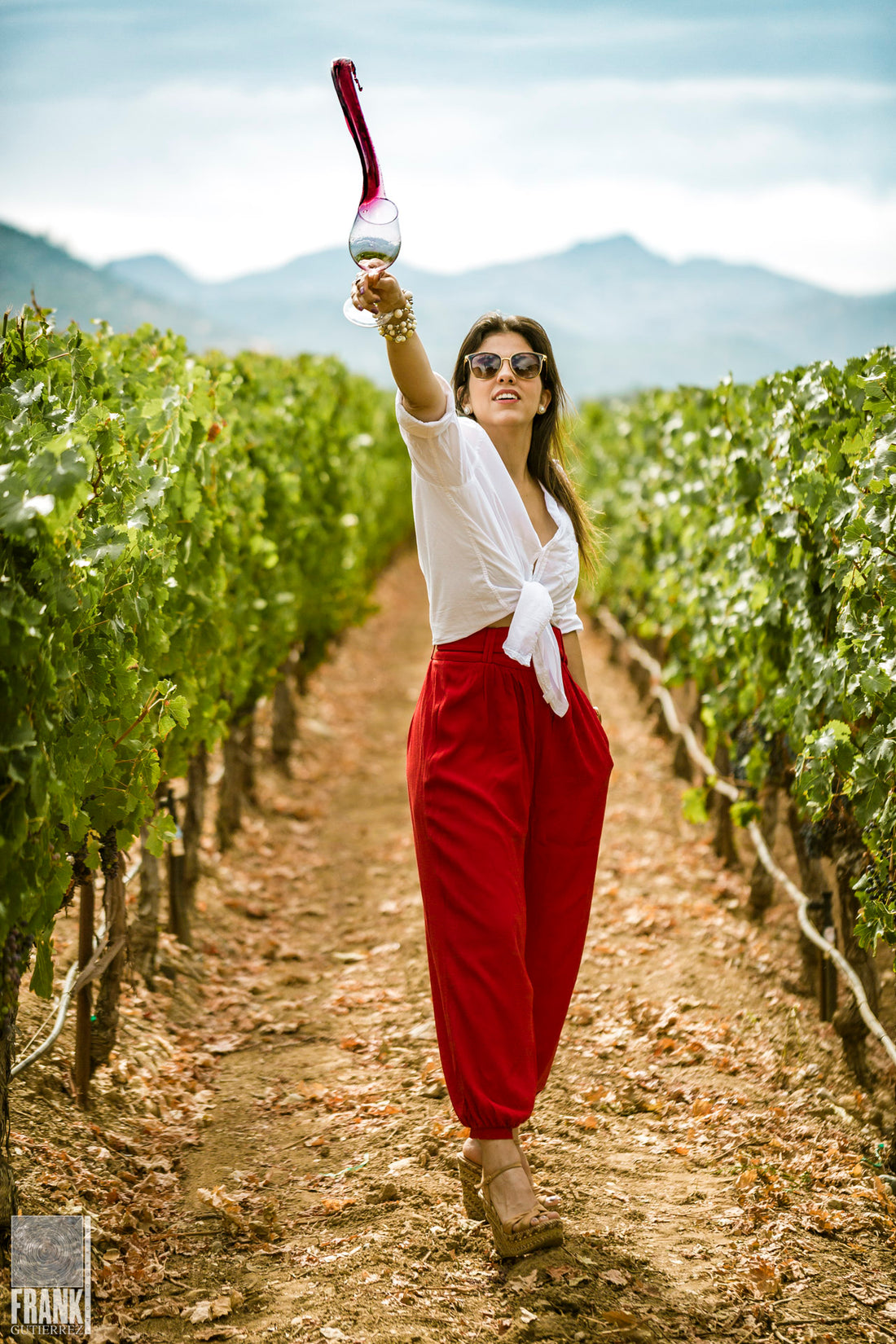 One of our beloved Brand Ambassadors is Isabel Freeman. We caught up with Isabel on food and wine pairing, "must do's" in the Napa Valley, and her journey to becoming one of the top wine influencers. Planning a trip to Napa? Make sure to reach out to Isabel for fun travel tips or highly curated travel experiences.
Let's start by talking food and wine pairing! You love to cook and you love wine. If you had a day to yourself, to cook and enjoy a leisurely meal, what would you make and what wine would you pair with it?
I do love cooking. I enjoy getting in my kitchen and preparing a meal for my husband and friends. To start I open a bottle of Sauvignon Blanc and enjoy a glass while getting all the ingredients ready. Risotto is one of my favorite dishes, so usually I want to make risotto. A shrimp risotto, mushroom risotto, or prosciutto with brie cheese is always a great idea. This dish is delicious, fairly easy to prepare, and pairs well with a Cabernet Sauvignon which is my favorite varietal.
What are the top 3 things you MUST see and do in the Napa Valley?
Napa has so much to offer. Besides wine tasting and restaurants, of course, I would recommend:
1) Hot air balloon ride above the vineyards: you can see the best views over the Valley with an exciting experience of being high up in the sky.
2) Wine Train: it is a luxuriously vintage experience with their elegant 100-year-old railcars. The Wine Train preserves a piece of Napa Valley history in a three-hour tour as you take in some gorgeous views from the Valley with a sunset if you do the dinner ride. Also, the food and wine are incredibly delicious.
3) Hot Springs in Calistoga: this is a perfect way to relax in mineral pools or get a massage at a spa. After a long day of wine tasting, this is all you need to relax fully.
Tell us about @napavalleytip?
My name is Isabel Freeman, content creator for Napa Valley Tip (www.napavalleytip.com). I've always loved traveling to study others languages and cultures, and always dreamt of living in another country. In August 2015, I chased my dream and moved from Brazil to San Francisco, California to improve my English. After a couple months in California, I met a very special person named Brendon Freeman (my husband) who was born and raised in Napa, California, which is a city in the Napa Valley located about 100 km (60 mi) from San Francisco. At the time, I had never even heard of the Napa Valley, but after visiting for the first time I absolutely fell in love! After moving and settling in, I started doing a lot of wine tastings and quickly got a job at a very special winery called Stag's Leap Wine Cellars. Next, I decided to share my adventures around here by creating the Napa Valley Tip Blog.
Nowadays, after more than 4 years in the United States, it is clear that chasing my dreams by moving from Brazil to California to create my best life was the right decision. That's why I always say you should listen to your heart and do what makes you happy!
As one of the top and well-known wine influencers, what else do you want people to know?
I do love wine for sure and that is the reason I started my blog. I also offer personalized tours, arranging itineraries, making all the reservations for hotels, restaurants, wineries, and could be a translator since I speak Portuguese as my first language, and I also speak Spanish and English.
We're honored to hear that Wake Up Wine has a spot in your kitchen. What's your experience like?
I have both amazing decanters (PRO S and PRO). They are easy to use and make a positive difference on the wine. The PRO S has Bluetooth speakers, which is amazing when you have friends over to share great wines and music. Wake Up Wine is an awesome and creative invention, and after using just once you'll always want to use it with every bottle to decant your white or red wine. I highly recommend it for all the wine lovers out there!